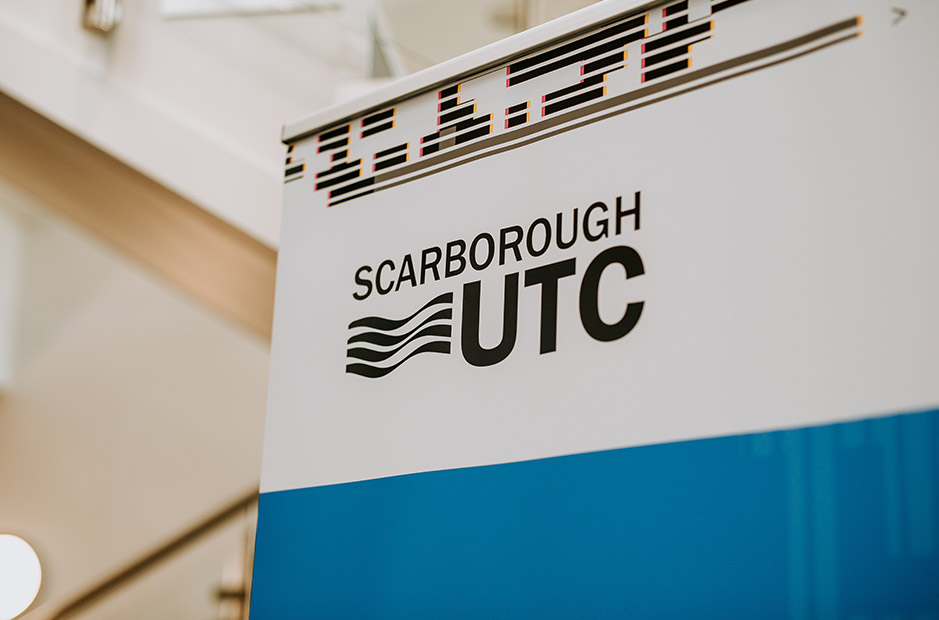 1. Technical Excellence, Employable Graduates
Joining Scarborough UTC at the beginning of year 10 is your route to personalised, hands on learning and work experience. You can study engineering design and engineering manufacture working with employers such as McCain and Unison or health working with the NHS and NYCC provide inspiring career based education that will help you progress to excellent destinations. It is the perfect blend of learning alongside work and university. Our partner universities are Hull and CU Scarborough.
You will also, obviously be taught all core subjects of English, Maths and science by excellent, passionate teachers. All teachers embrace the use of digital technology in their teaching and it is used really effectively to help you enjoy your learning and achieve.
2. Opportunities and partnerships
There is always something going on at Scarborough UTC and so there is lots of additional opportunities for students to get involved in. Scarborough UTC has a wide range of sponsors and partners from high profile engineering and cyber companies to local universities. These partners provide our students to get involved in project based learning such as the McCain pump project, be mentored by partner employers as part of our Career Development Programme or attend work experience with one of our partner companies each year you are at the UTC. That is 4 weeks of work experience.
As well as your core lessons every week you have 2 hours of enrichment where you can learn new skills or develop your interests further in a wide range of activities such as fabrication and welding, F1 in Schools, VEX Robotics, sport, CCF (Navy Contingent), Surf Club, Science Club and many more.
3. Being industry ready
Joining Scarborough UTC in Year 10 will show that you are already passionate about working in either engineering, cyber or health and social care and want to get a head start building the skills, knowledge and experience to really succeed in your career. You will get your hands on the latest industry equipment and learn how to craft your skills. You will learn how to conduct yourself in the workplace and get yourself industry ready. By joining Scarborough UTC in Year 10 you can make a seamless transition to our sixth form and continue to study pathways in engineering, cyber and health and social care opening up careers in these sectors through apprenticeships and university.
4. It's like school but different….
Our Year 10 and 11 students really like how our curriculum combines the usual academic subjects alongside hands on practical learning in technical subjects in engineering, cyber and health and social care. Class sizes are much smaller than you will be used to and relationships between staff and students are really strong. We know you well and understand quickly what makes you tick and how you learn best.
5. People like me
You will be joining a school with people just like you from all across this region, from Whitby in the north, Bridlington in the south and Pickering in the west. You might join us because you are passionate about engineering, cyber or health and social care; because you are not making as much progress as you would like in your current school and want a new sense of belonging; or because you value being able to learn in a hands on way developing practical skills alongside academic skills.
Come and join us! Scarborough UTC students are career focused individuals who understand the importance of developing work ready skills to enter the fields of engineering, cyber and health and social care. They are keen to take up opportunities in an industry focused environment to help them stand out from the crowd.
6. Mums are always right
Finally here's a quote from the mum of a Year 10 student.
"His opportunity within your school for enrichment with his participation in F1 in schools has been immeasurable. He has gladly stopped back after school hours to get ready for their competitions and done work at home, his confidence has come a long way from where he was and again it's down to your teachers that need special thanks and credit, their enthusiasm and dedication is second to one".